Lankhorst Improves Offshore Splicing Procedure for LankoDeep Rope
16th February, 2022
SNEEK, THE NETHERLANDS - Lankhorst Offshore has developed a new DNV Endorsement of Qualification Plan End-to-End rope splice for its LankoDeep rope.
If the LankoDeep needs to be spliced offshore using certified personnel, an end-to-end splice can be made up quickly, allowing offshore handling operations to continue uninterrupted.
The company says there previously had been no DNV-qualified splicing method for deepwater deployment and recovery systems. Its new procedure is under DNV Technology qualification management and verification DNV-SE-0160.
LankoDeep, based on Dyneema DM20 XBO optimized for cyclic bending, features 12 strands each comprising a three-strand rope. This construction, combined with the yarn coating, reduces internal heating and abrasion, the company said.
The system is designed for deepwater lowering and recovery operations, allowing engineers to lift and deploy the maximum load, without the need to factor in the weight associated with steel wire ropes.
"Neutrally buoyant LankoDeep allows operators to maximize the lifting capacity of their crane during deepwater deployment and recovery," said Sergio Leite, sales director with Lankhorst Offshore.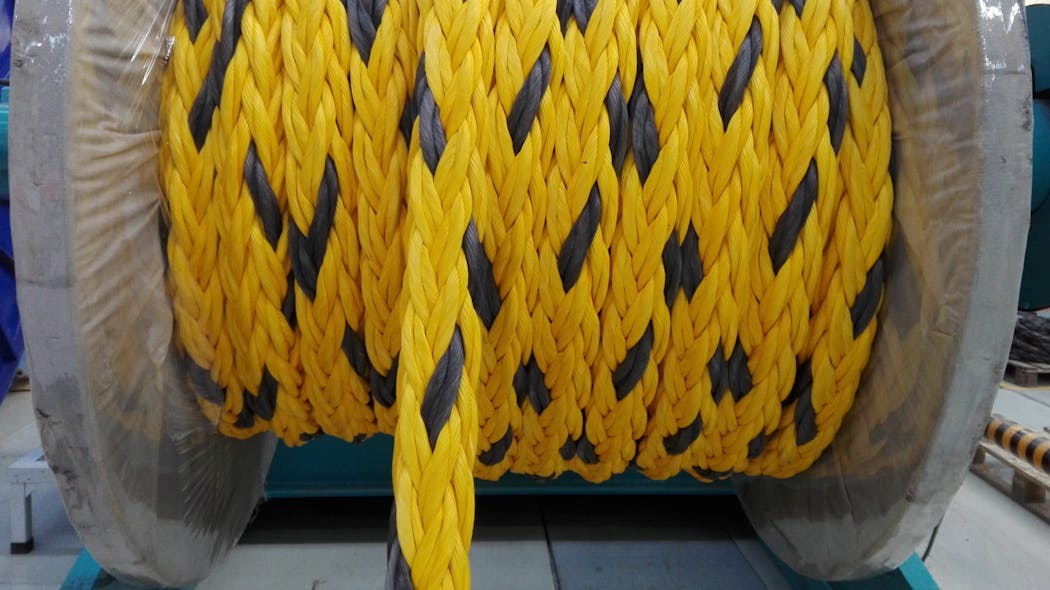 ---
Can Fiber Ever Fully Replace Steel Rope? 
5th December, 2022
KIRKEL-LIMBACH, GERMANY -  Maybe, but manufacturers will have challenges to overcome in the years ahead.
American Cranes & Transport interviewed Andreas Schmeiss, WireCo Senior Vice President for Global Cranes, for a recently published feature article looking at the advantages and disadvantages of fiber rope application as an alternative to more traditional steel products. He provided in-depth industry insight on practical current uses for synthetics in crane and winch systems, while also looking at the reality of the current market.
"In some cases, steel is the clear winner. In other cases, fiber," Schmeiss told the reporter. "Advanced coatings might one day tip the balance in favor of synthetics, but, for now, it would be difficult to imagine that fiber rope would fully displace steel any time soon."
The full article can be read here.
---
Peer to Peer Support - The Implementation of the EU Legislation on Marine Litter
23th November, 2022
BRUSSELS, BELGIUM -  In July 2019, the EU adopted the Single-Use Plastic Directive (EU)2019/904 to address the problem of pollution from both land and sea-based sources of marine litter. DG MARE organised a one-day event to promote peer to peer support on the implementation of the EU legislation on marine litter.
Discussion were taken on the measures regarding:
- Fishing gear containing plastics.
- Requirement for the Member States to set up extended producer responsibility schemes.
- National minimum collection targets and the monitoring and reporting obligations.
- How to explore synergies with the new Port Reception Facilities Directive, which creates incentives for ships to deliver all their waste, including fishing gear, back to shore.
Based on different models existing or experimental level in several countries, the participants expressed a desire to have a consolidated EU approach. Eurocord is very well placed in this perspective.
Happy to assess at least a Eurocord member was present.
---
Eurocord at Metstrade 2022
20th November 2022  
AMSTERDAM, THE NETHERLANDS -  On 16th and 17th November The Secretariat attented the Metstrade in Amsterdam. Metstrade is a trade show in leisure marine industry with around 1,300 exhibitors and thousands of visitors. The sector appears strong and relatively less affected by the crisis.
---
EXMAR acquires 100% OF BEXCO
10th November, 2022
ANTWERP, Belgium - EXMAR, which was the main shareholder of BEXCO, has now taken over full ownership in BEXCO by acquiring the shares. BEXCO is a European manufacturer of precision-engineered synthetic mooring, towing and lifting ropes for offshore, marine and industrial applications. BEXCO serves energy companies as well as ship and tug owners by designing and producing made-to-measure fiber rope at its Belgian main factory in Hamme and in Antwerp at its quayside manufacturing facility. EXMAR and BEXCO are both active worldwide in the commercial maritime and offshore energy markets. 
---
Avient Completes Acquisition of DSM Protective Materials (Dyneema®)
1st September 2022  
CLEVELAND, USA - Avient Corporation, a leading provider of specialized and sustainable material solutions, has completed its purchase of the protective materials business of DSM (including the Dyneema® brand), which will now be called Avient Protective Materials and reported within the company's Specialty Engineered Materials segment.
---
5th Joint Convention Eurocord & Cordage Institute 2022 - Memories of Vienna, Mozart's Masterpieces
20th July, 2022
Vienna… quite a souvenir ! We were 109 participants, featuring 89 delegates and 20 companions. Hosted and organized by Eurocord, it seems useful to me to stress we had 26 only Eurocord representatives, 13 only CI delegates and 50 (repeat 50) members of both organizations. Which underlines the status of "Marriage of Figaro" both our Associations are striving to. And the atmosphere was more one of "Exsultate, jubilate" than of a "Requiem". Indeed, very recomforting to assess that the mood was good, not only because we met altogether for the first time since the pandemic, but most of all because our industry performs well, despite the various geopolitical, macroeconomic, economic and public health downturns we are (still) living in. The center of Vienna is particularly prone to host an event like ours. The scenery was magic, especially in the Ferstl Palace in the center and at the Schreiberhaus in Vienna's outskirts, and I was told that the visits organized on Sunday by Artemezzo were definitely worthwhile. A nice "variation" on a corporate event. Unfortunately, however, some logistical shortcomings during our meetings (airco, welcome reception, sound & vision) understandably disappointed some participants.It is important we could collect everyone's impressions after the event through our survey, which was numerously responded to. Thank you all! And then we had the several professional "sonatas" brought by our own artists on many different subjects. Whether performed by a "solist, a duo or a trio", all the presentations were interesting, worthwhile and without any doubt securely prepared by their respective speakers. A pretty busy program, giving rise to a magic "symphony" of the ropes and nets business in our 2 continents. Not forgetting the presentations of some new members and the presence of reputable non-member companies, united by the concern we all daily have on the joys and the woes of our professional activities. I can only conclude that our Conventions, be they joint or separated, are made successful by the participants' enthusiasm and participation. Obviously, this session featured this more than a bit, maybe just because "cosi fan tutte" ?
Looking forward to a new edition in 2024, this time hosted by our Cordage Institute friends. For Eurocord, we're heading in 2023 to Italy, more details to follow soon.
- Philippe Verschueren Secretary General EUROCORD.
---
Wilhemsen's Smart Rope stole the show at SMM
6th September, 2018
Visitors at this year's SMM trade show in Hamburg, Germany, have been challenged to walk a mile in seafarers shoes and test out Wilhelmsen Ships Service's smart rope system. The rope was put on display at the company's stand and visitors were invited pull the rope and see what they are made of as the system provides real-time pull load results.
---
Svitzer A/S Adopts Samson Fusion-12™ Lines for Midsize Tugs
11st May, 2018
Svitzer A/S has done so to overcome the challenge of traditional fiber ropes which are usually heavy, large and difficult to handle. Moreover, the weight problem becomes greater when the rope is wet. Hence, the company was looking for a rope that could withstand the strain of standard operations encountered by midsize tugs, eliminating the headaches of undetected damage that can lead to early failure, but without the investment in high-performance, all-HMPE (high-modulus polyethylene) ropes. This is when Samson offered a great solution: Samson's Fusion-12. As a hybrid rope, it blends the strength and performance of Dyneema® HMPE with polyester fiber into a single-braid construction that is significantly stronger than other polyester ropes, yet lighter, more flexible, and easier to handle.
---
2nd International Circular Ocean Conference - Norway
19th  April 2018
The Secretariat attented an inspiring conference on circular ocean. Many interesting projects have been presented to tackle the issue of marine waste by recycling and reusing the ropes and nets that are dumped into the oceans. It has been shown that it can be very profitable and that there are many opportunities in this circular economy.
Here are some useful links:
---
Samson Presence in European Market
12nd April, 2018 
The worldwide leader in high-performance rope and market leader in commercial and recreational marine applications Samson has announced a expanded presence in the European market through Spain and its surrounding areas.
"We're very pleased to see this new level of commitment to commercial and recreational marine customers in this region of Europe. Baitra has been a partner of ours in these industries since 2015, and we're looking forward to extending Samson's relationship with them long into the future." says Samson Marketing Strategy Manager, Gavin McWilliams.
---